During the second week of November in 2014 I revisited 'Les Vosges', in France. My main goal was to find a stunning fuchsia colour morph of the Ground Beetle Carabus auronitens.
As in 2013, I was again gifted with constantly changing montane landscape sceneries. The forested mountains with their beautiful autumn colours were often covered in fog, to emerge only a few minutes later out of the mist. Under here, some images taken in the surroundings of my hotel in Hohrod, close to Munster. The first image shows the church towers and a high chimney in the city of Munster piercing through the mist in the early morning.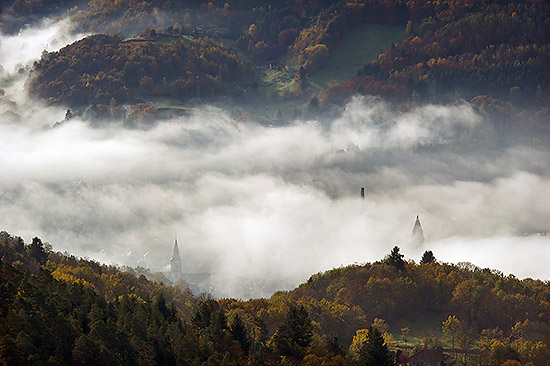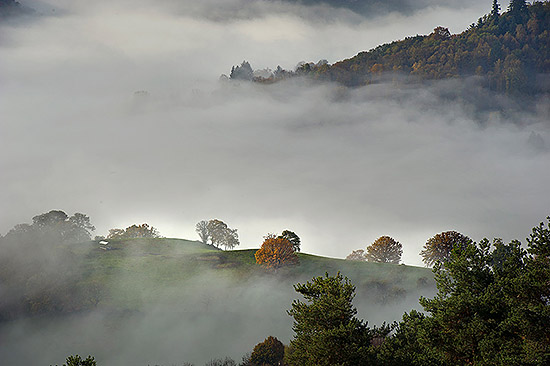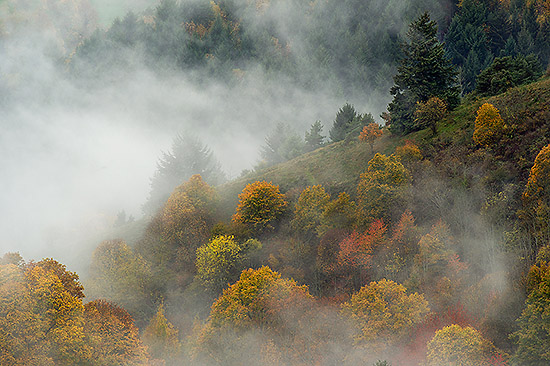 Under here, two images showing the details of the autumn colours in  a montane forest.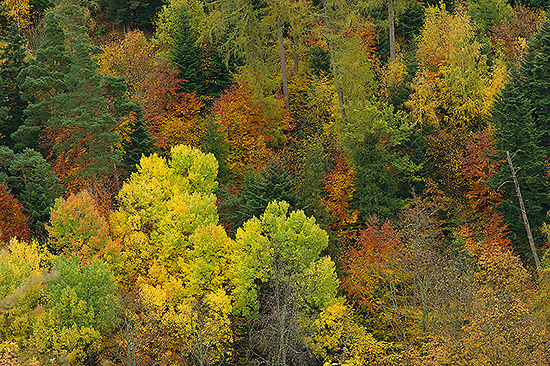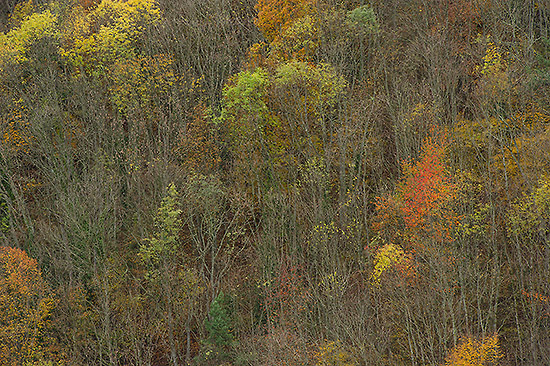 On the first day I was very surprised to find two Fire Salamanders, which were still active. Due to the very warm weather conditions of the previous weeks, some reptiles and ground beetles appeared to be still active during a period that  usually all of them have started to winter in their hides. Under here an image of the Fire Salamander in his environment, a beautiful forested valley at Wintzfelden.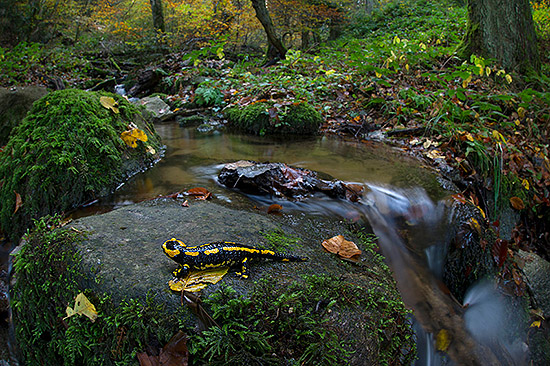 On the second day I went to the Southern lower parts of Les Vosges, in the vicinity of Altkirch, which is known to hold a large population of the Carabus auronitens ssp. auronitens natio altkirchensis, where most of the individuals show a reddish coppery colour covering the pronotum as well as the entire the shields (where the more classically coloured individuals have a reddish pronotum and greenish shields). About half of the population shows this beautiful coloration, and some individuals even have a bright fuchsia pronotum sometimes even turning into a deeper purple colour.  Under here images of two individuals - belonging to the 'forma individua' ignifer or violaceopurpureus.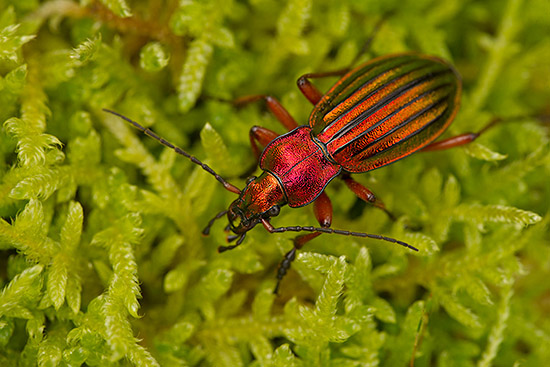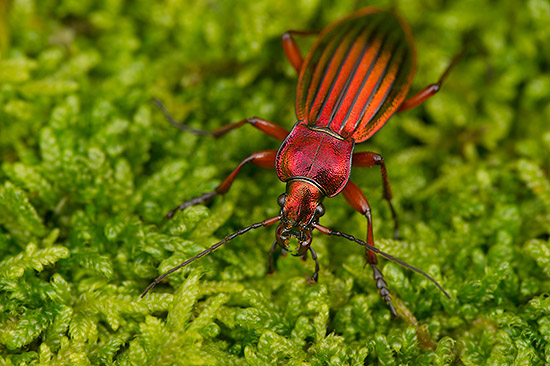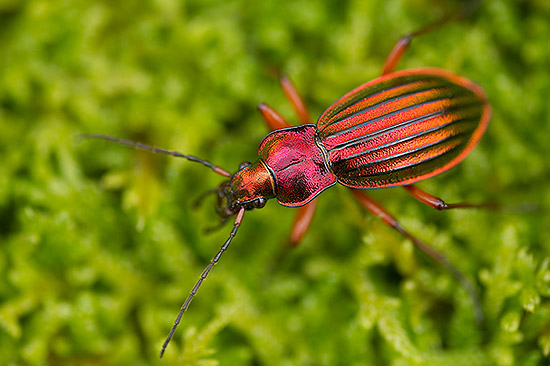 The forest I visited was incredibly rich in Carabus species: on a tiny patch, where I searched a surface of less than 20 acres, I found six Carabus species and especially auronitens and granulatus seemed to be present in large numbers. Under here a classical brownish colour morph of Carabus granulatus, followed by an image from a more coppery greenish individual and one with red thighs belonging to the forma individua haematomerus.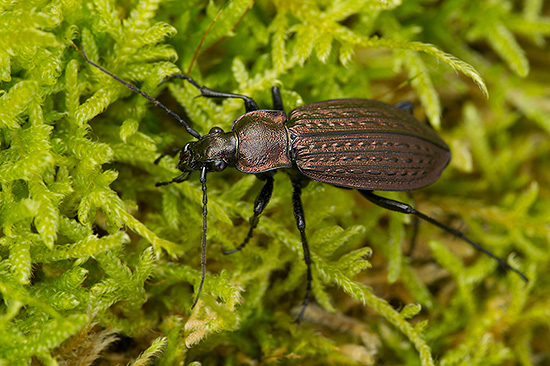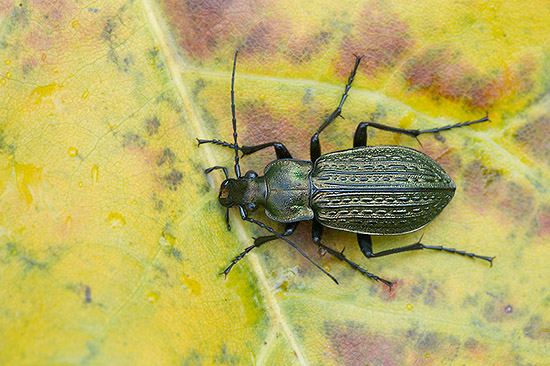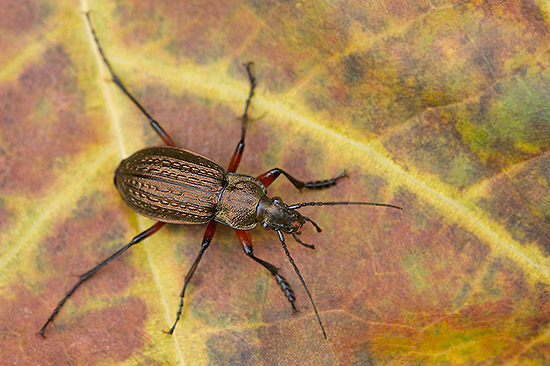 The place turned out to be a Mekka for colour variations. The population of the in Western Europe localised Carabus arvensis, belongs there to the subspecies schrikelli, and also seems to have very often red thighs (femurs). About eight out of the ten individuals that I found, happened to show these features and are described in literature as the f.i. ruficus. Under here images of two individuals, of which one also showed a blue-greenish patch on the pronotum (first image).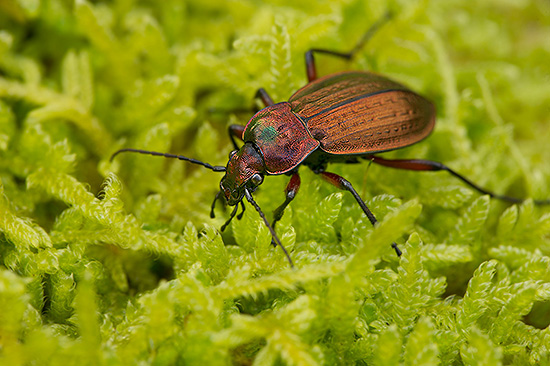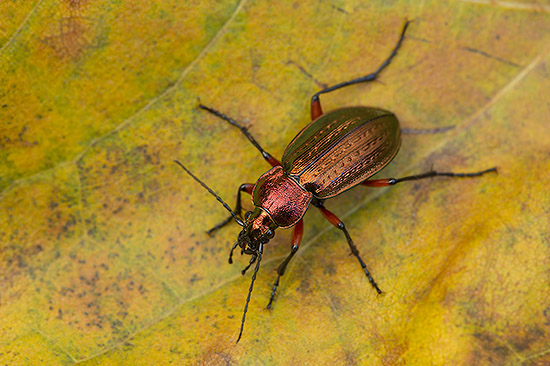 In the same area I found a few individuals from Carabus problematicus, Carabus nemoralis (image one under here) and Carabus coriaceus (second image under here). A nice surprise for me was the presence of Panageus cruxmajor, a species I couldn't manage to photograph before (third image).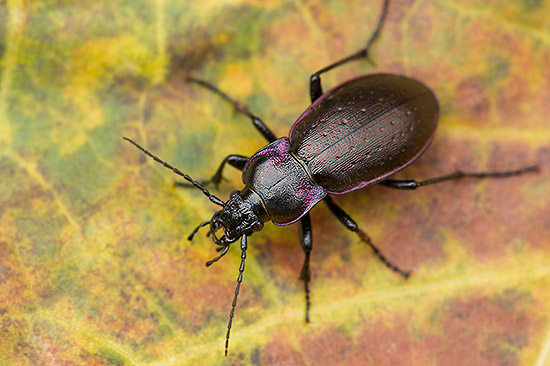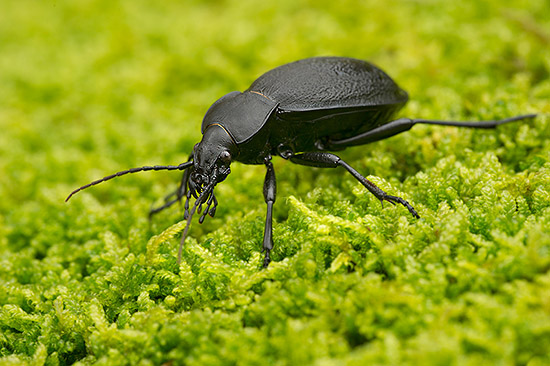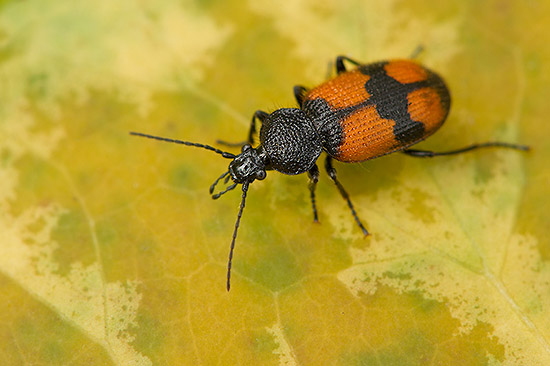 Another beautiful species, which was quite common in the submontane areas South of Munster, is Carabus intricatus. Under here two images of this intensively blue coloured ground beetle, taken in the Forêt de Rouffach.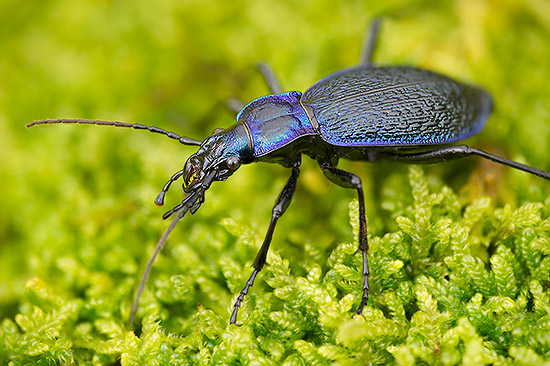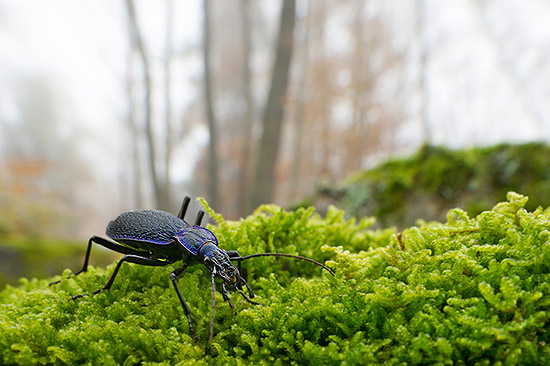 Finally, some portraits from Carabus coriaceus, Carabus intricatus and Carabus auronitens. The last two images are field stackings, which were processed in Photoshop.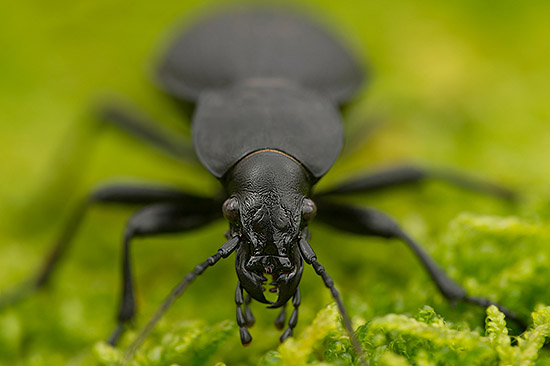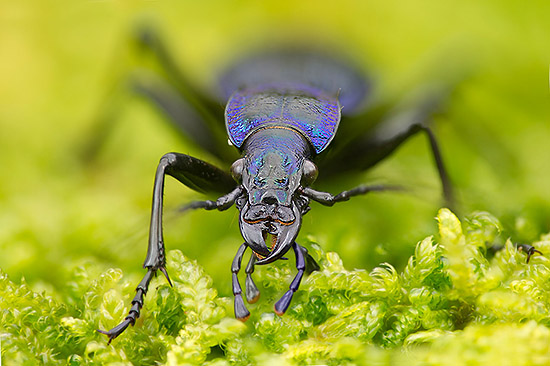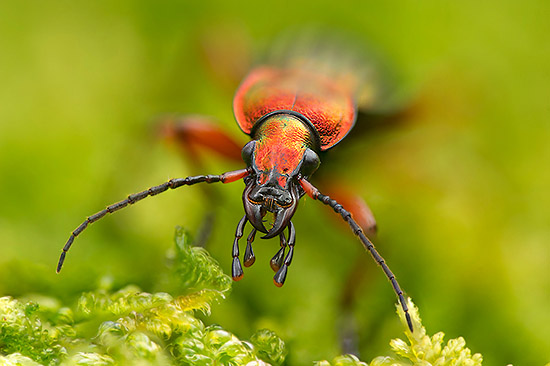 Under Here a detailed close-up portrait of Carabus auronitens. If you want to see more images from Les Vosges, please click here.