After our mind-blowing Siberian Ground Squirrel Experience, we hit the road towards our next destination, Martinselkonen. After again a very short night and quite a hassle to find the right dirt road towards the Russian border, we reached in the early afternoon Martinselkonen. Despite the presence of patches of old growth forest and spectacular large natural bog areas, in the West the flat landscape is dominated by rather monotonous conifer plantations and huge clear-cut areas. On our way towards the Russian border the rather dull landscape was slowly changing into more natural and varied forest habitat in hilly areas. The area still holds a large natural population of Brown Bear, Ursus arctos.
Under here an image from the crown of a Scots Pine tree in Martinselkonen.
Around 4 p.m. we were brought to a small hide in an open bog area, where we would spend the entire night. The bears belonging to the natural population are attracted by bait, and we would witness during the whole night bear activity. The first young bear showed up around 7 p.m. soon followed by another young, and a little later the mother. They spent about an hour close to the hide, when a large male showed up and chased them away. Activity slowed down till midnight when another large male showed up.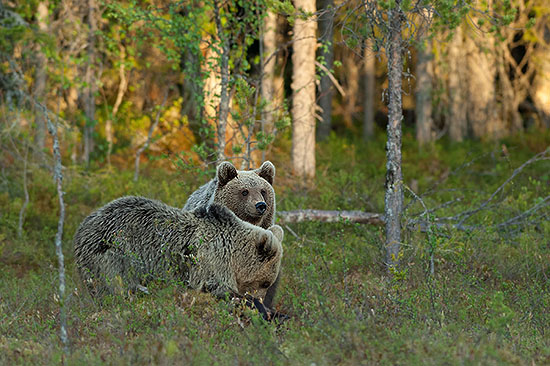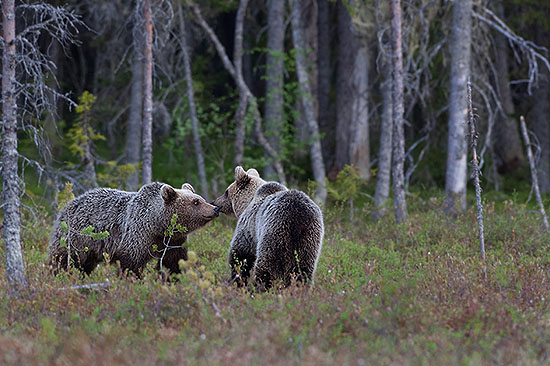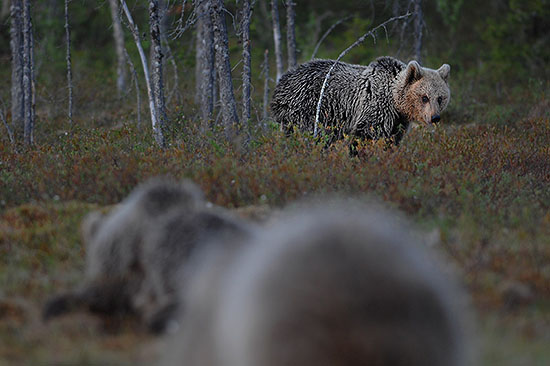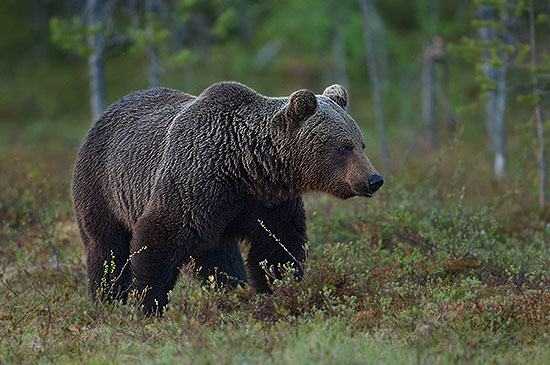 Around 1 a.m. another very large male showed up, which ended up into a short fight. Unfortunately during the first Nikon DX camera era, the dark circumstances didn't allow any decent shots of such type of actions. But, anyway it didn't stop us from fully enjoying this goose bumps moment! Witnessing the power of two huge bear males fighting is an unforgettable experience. A little later the winning male also disappeared into the woods.
After a longer quiet period, around the first sunlight, a young bear showed up.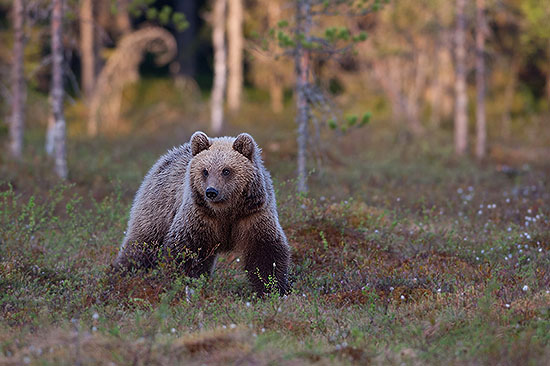 Despite my mixed feelings about the 'zoo like ease' of the circumstances, the huts are a unique opportunity to observe during long periods bears at close range. Moreover, because the bears have become completely familiar with the huts and the presence of humans in it, they show a very relaxed and natural behaviour. Experiencing the same without the use of these kind of huts is almost impossible in Europe.  The only realistic possibility is by creating yourself the same circumstances and it would take weeks, if not months to make the bears accustomed to a self-built shelter and the baits.
Capercaillie time
After leaving the Bear hide, we drove from the Kuhmo area to Kuusamo. The next day we had a meeting with Olli Lamminsalo at first light, at 2 a.m. So again, it was again a very short night of about 2 hours of sleep. We would visit an area South of Kuusamo, where Capercaillie courtship still took place, during the coldest parts of the day, which is very early in the morning. We had already observed about ten times females Western Capercaillies, Tetrao urogallus, but still no male. So we were very excited about the possibility of seeing an impressive male!
The next morning, while driving through a remote forest area, we spotted a male at close range. Again a magical experience: a male was moving slowly but briskly through the old blueberry vegetation of a dark conifer forest at first light. What a bird!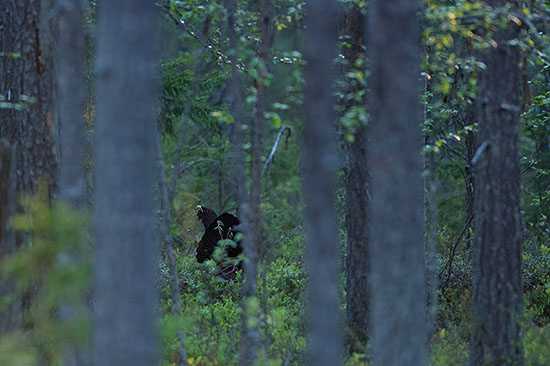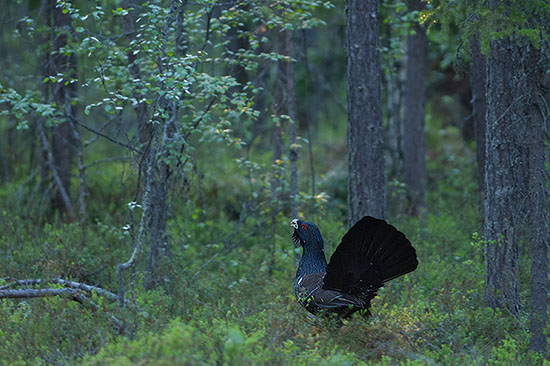 Under here an image of a Redwing, Turdus iliacus, at first light. The monotonous repetitive song of the Redwing is omnipresent in the Scandinavian forests. His song can be heard almost during the whole day. Only during the hottest parts of the day, between 12 a.m. and 6 p.m. almost all bird activity drops down and the forest seems asleep. No Redwings singing then neither.
Later on that day, Olli brought us to a nesting site from a Tengmalm's Owl, Aegolius funereus. After waiting a while, the male flew in, and I could take a few pictures in the beautiful early morning light.
Birding can be dangerous and funny
Our next stop was a swampy area North of Kuusamo. I had heard of many stories of crazy Capercaillies, attacking people. I had never heard of other Grouse showing aggressive behaviour towards people. I can imagine being attacked by a turkey-sized bird can even be a quite frightening experience. But a rather small chicken like bird running all of a sudden quickly towards you and jumping up against your leg is amazingly funny and a hilarious experience… W.T.F.? This is exactly what happened to us up there with a male Willow Grouse, Lagopus lagopus. First I had to laugh so hard when this happened, I wasn't able to take sharp pictures of this scene…
But I soon screw up my courage and took a few more pictures. Despite being quite small the bird still has very impressive legs and claws. Luckily Olli, our companion was smart enough to cover his sensitive parts during the second attack (last image)… Here's a sequence illustrating the scenery.
Sudden ferocious bird attack
Man down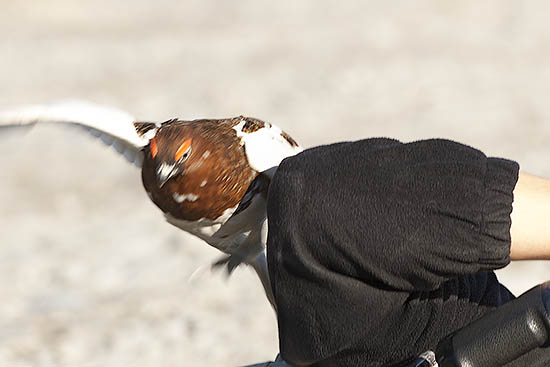 Bird strikes again
Willow Grouse Victory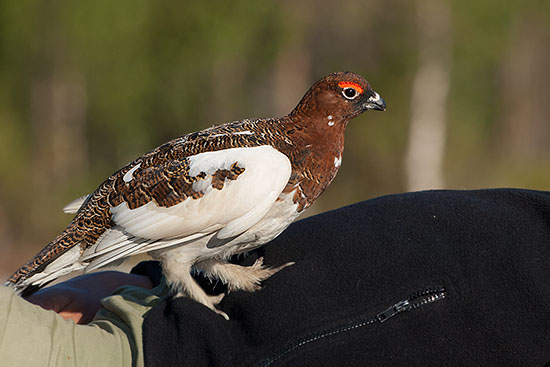 And I thought Kuusamo would be a peaceful and safe environment, silly me! I'll be probably still laughing out loud when thinking back about this moment, till my very last days…
Back again to serious photography
Despite being terrorised by the bird all the time, I was soon convinced this was a unique photo opportunity to take some wide angle shots from the bird. Opposite to Olli, I laid flat on my belly for the pictures, which seemed far more prudent… Here are the results.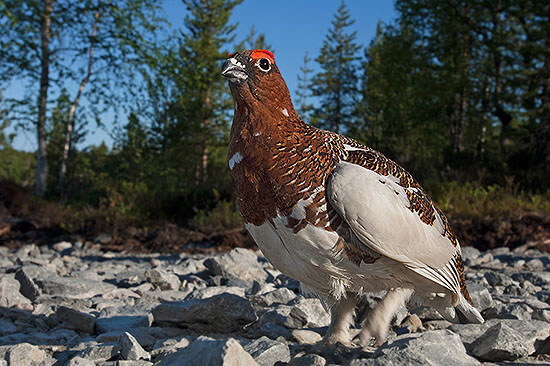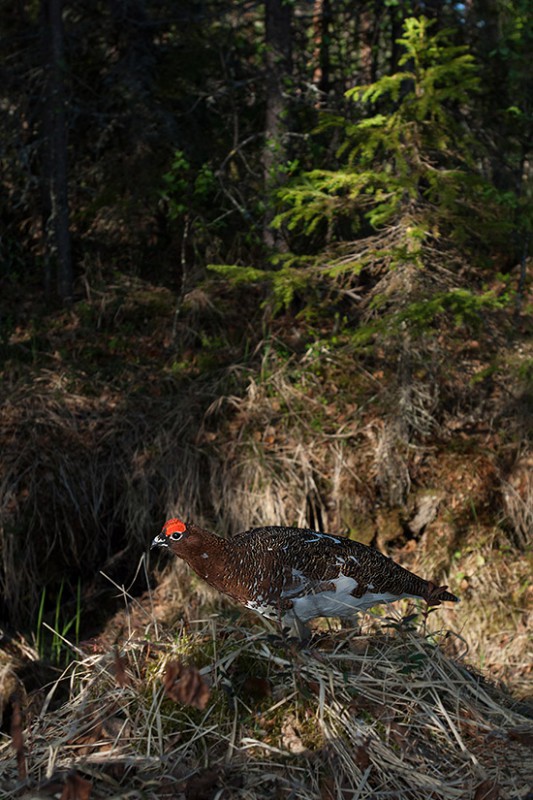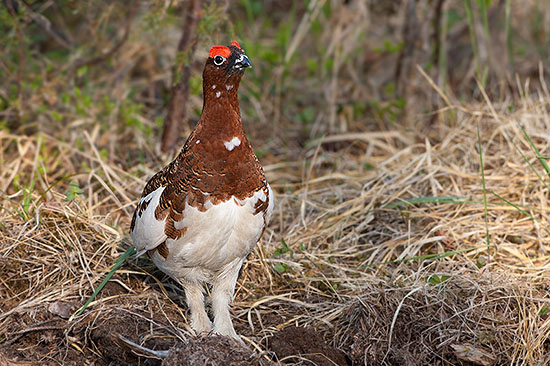 In the typical half-open Willow Grouse habitat (images under here), we also spotted briefly, but at close range a male Rustic Bunting.
Mosquito time starting earlier than expected
Temperatures had been rising seriously meanwhile and the Finnish people were speaking of an unexpected heatwave for this time of the year. In the middle of the day temperatures were climbing up to almost 30 °C, which is really exceptional during early June. We hadn't noticed a single mosquito on our first six days of the trip. The seventh day, a few mosquitos seemed to show up here and there. On our last morning we visited in Livaara, a bog area close to the Russian border. The area around the bog is a good spot for Rustic Bunting. As soon as we got out of the car, we realised that billions of mosquitos had hatched during the past hours. What's more, they seemed very determined and had apparently only one target: biting us… Four Belgian friends of us were birding in the same area that morning, and after five minutes three of them were sheltering in the car again. With no insect repellent available, Erika, Michael and I decided to persist and climb up the hill in search of the Orange-flanked Bush-robin, Tarsiger cyanurus. We had already seen the species the day before on Kontainen, an old forested hill close to Kuusamo. Trip reports mentioned that Livaara is a much more wild area surrounded by huge patches of old forest, so we were interested to see the species in this more attractive environment. After a short hike up hill, we were really glad to have made the climb: the forest high up was really superb, but even more impressive was the view over the surrounding lake area. Luckily there were not as much mosquitos up there as around the swamp area.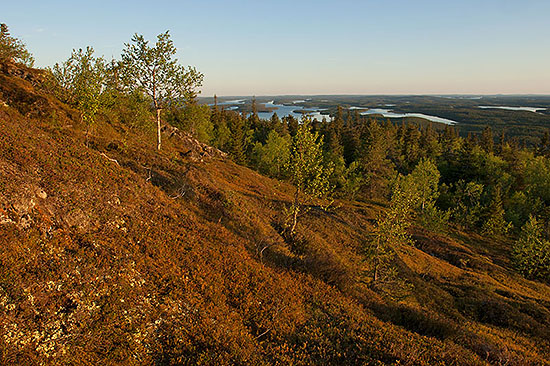 Under here an image of the Orange-flanked Bush-robin.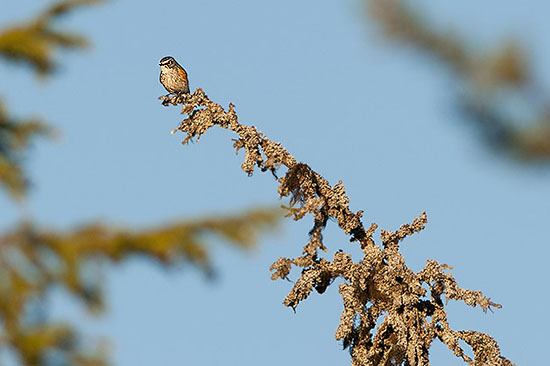 Under here an image of Erika and I on top of Livaara.
When we hiked back, the place became again infested with mosquitos, but I still hadn't seen the Rustic Bunting. After a short search of half an hour, and hundreds of mosquito bites later, I got brief but close range views of a male. Another nice bonus bird during this quest was a Siberian Jay. The species is easy to see around feeders during the winter, but much more secretive during the summer. This was only my third sighting of this species during the entire trip.
Under here images from the bog and Siberian Jay, Perisoreus infaustus.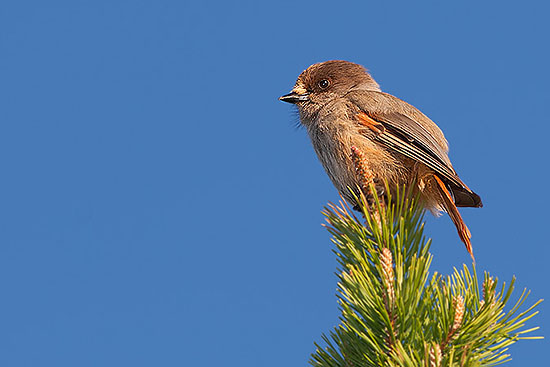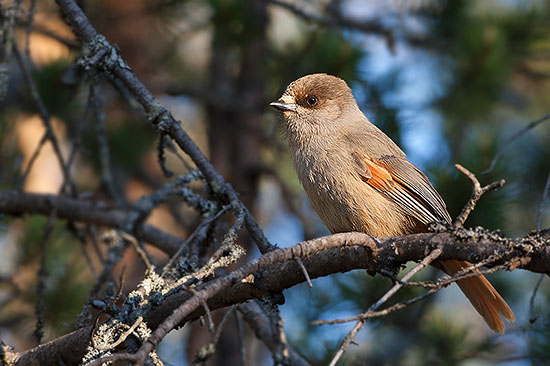 If you want to see the images on a larger scale, you can have a look at my portfolio from this trip.